✔️Comprehensive: This 70-page guide covers personal branding, photography, and marketing to get you ahead of the competitors!
✔️Deep Marketing Strategy: Gets you started on marketing yourself as a new personal brand photographer!
✔️Deep Personal Branding Issues: Goes deep into personal brand photography-specific issues, objections, and technical specs.
✔️BONUSES: Includes 3 bonuses: Marketing Mind Map, Social Media Content Brainstorming Worksheet, Social Media Stats and Dimensions Guide
Only $97!
You'll never see this price again!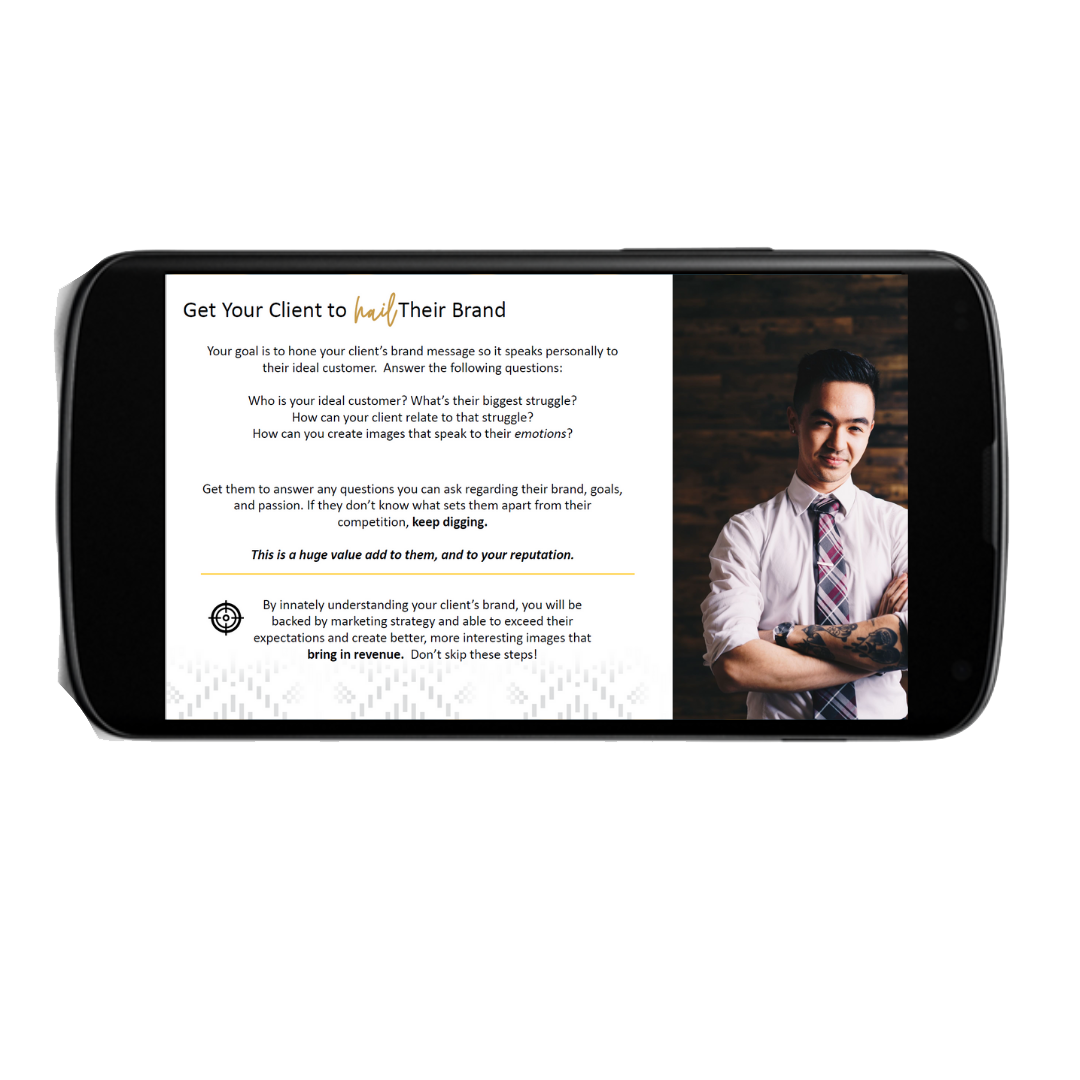 Benefits
✔️Full Overview of Personal Brand Photography
✔️Get Ahead on Your Own Marketing
✔️Legal and Technical Specs
✔️Learn How the Magic Formula Works
✔️Plan Your Shoot With Confidence
FULL OVERVIEW OF PERSONAL BRAND PHOTOGRAPHY: This guide provides an in depth look at personal branding, its benefits to both photographers and small businesses, and a list of ideal clients. Learn how personal branding differs from a head shot and ways you can describe its importance to the digital business world.
GET AHEAD ON YOUR OWN MARKETING: Photographers entering the personal brand photography niche will find a wealth of information for growing their own brand and list of services, including how to market yourself, create an email list, optimize your web presence, improve your SEO, and break through client mindsets.
LEGAL AND TECHNICAL SPECS: Personal brand photography works much differently than family photography. Learn more about expectations for small businesses and entrepreneurs, usage rights for personal brand photography, and shoot specs.
LEARN HOW THE MAGIC FORMULA WORKS: Get deep into the marketing and branding of your photography, including getting your client to nail their brand, the recipe for content success, and more information about creating stories and audience personas. Receive a tutorial on the buyer's journey and the Golden Circle, the marketing strategy used most often in the 9 Steps to Personal Brand Photography Planning. Learn how to name your files and how to pass on the value to your client's social media plan.
PLAN YOUR SHOOT WITH CONFIDENCE: Full discussions on and tips on choosing special locations, how to best use props to tell your stories, prop suggestions, short guide to flat lays, and a guide for helping your client choose the best outfits for their big day.